All this for the cost of premium coffee pods
COFFEE MACHINE + FROTHER + 1KG COFFEE
LEARN MORE
Small Batch Roasted Coffee Subscriptions

Welcome to BE. AR Peterborough
Coffee lovers rejoice! You can now order our delicious micro batch coffee online and if you opt for our coffee subscriptions you'll save 15% on our Organic and Fairtrade blends, all hand selected and roasted in the UK in our vintage roaster. The Bean Around is a Peterborough based cafe owned by a coffee-obsessed family with over 20 years experience in the hospitality industry, and since recent events we've taken our cafe online.

Our coffee blends are hand roasted in very small batches to taste, which ensures we have full control of the roast and can perfect the profile to ensure consistent and balanced flavor (learn more about micro batch coffee here). We're family owned, and we've worked in the coffee business our entire lives as baristas on the front line of rush-hour London, so we know what goes into making a great cup of coffee.

We pride ourselves on having one of the lowest carbon footprints in the business. All of our packaging is biodegradable, our produce sourced locally, and our beans are roasted fresh and packed by hand right in the UK. The only way you'd get fresher coffee online would be to roast the beans yourself!
Life's too short to Drink Cr*p Coffee...
---
The Last Coffee Machine you'll ever need!
The Piccino is a compact but sturdy, premium quality espresso coffee machine. Incorporating all the engineering skills and expertise behind the Fracino brand, famed for their Barista class coffee machines that are trusted by coffee companies the world over ...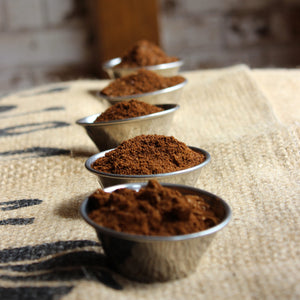 BE.AR. House Subscription Coffee
"BE.AR Bad Boy" A totally unique multi-origin craft blend only available at The Bean Around, profiled to perfection on vintage roasters and always by hand - right here in the UK.
Only available at your favourite coffee destination, we're now able to offer coffee subscriptions, click the button below to learn more.
ORDER YOURS HERE
Blog
---
Help stop the Peterborough Council from removing our Council approved covered seating. The Peterborough City Council are trying to force our cafe to remove its outside covered seating area by...
  Covid has closed our Coffee House so we're giving away coffee for free!? Get 3 espressos worth of our delicious micro-batch roasted coffee for free, just pay for shipping!...
Thank you to all you wonderful individuals that make us who we are everyday, the BEAN AROUND cafe and family wish everyone a wonderful festive season and new year.